When you spend much of your day standing in a kitchen, you will need to rely on shoes that can offer you with the safety on slippery floors, enough support for standing all day long, easy to clean stability and style. The Birki footbed in Birkenstock NonSlip Clogs for Kitchen is designed to provide support and comfort for safe standing and walking in the wet restaurant environment.
Birkenstock shoe company is located in Germany and is making quality shoes for chefs, gardeners, and sports professionals. They make shoes and clogs, and they do offer slip resistant outsoles on Professional Birki and Alpro clogs. They were super comfortable for standing for a long time in a restaurant kitchen or hospital. They are little expensive, but they last a long.
Then Birki footbed in Birkenstock shoes are available in line of unique professional shoes offer the following benefits:
Firm Longitudinal and stable arch support and toe gripper that helps in evenly distributing your weight and secure grip.
Elevated footbed edges to protect your feet
Cork footbed is made of natural and breathable materials. It molds according to your foot shape like a footprint on the sand. Slip resistant Eva outsole is durable and protects you from oily and wet slippery surfaces.
The design is anatomically correct and assists in relieving the pressure points in the foot
Easy to keep clean
Repairable construction makes for shoes that last for a very long time
The deep heel cup and neutral heel of these shoes encourages a better body posture and relieves the pressure on the ball of the wearer's foot.
Fluid resistant materials and design
The Birkenstock also offers soft footbed for high arches and dynamic footbed with viscoelastic foam for breathability, stability and shock absorption.
The Birkenstock professional range of clogs, shoes and sandals provides a very flexible fit, which allows for running, bending down, walking backwards. The shoes stay secure along with superior support. Below are two of the most popular ranges in slip resistant shoes for oily and wet floors. They protect your feet from unexpected accidents that can happen in kitchens. Also, that are durable enough to provide support and cushioning to your aching feet from standing all day.
Medical professionals, chefs, nurses, factory technicians and others who are required to spend many hours of their days on their feet love these comfortable shoes. The shoes can withstand messy and wet environments; the insole features contoured foam providing cushion and support. The tough polyurethane material and slip resistant soles are super easy to wash and keep clean.
This particular style is roomy compared to other Birki's; the style is known as 'high volume' and may feel huge on many feet. You can use 'spacers' that will create a more snug fit and eliminate some of the excess volumes.
Benefits and Features of the Profi-Birki Clogs for Chefs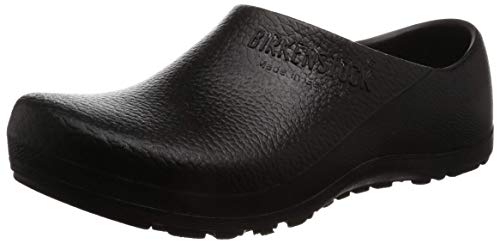 The footbed of these clogs is easily removed for replacement, repair or to air dry while the toe bar is designed to encourage the gripping motion of the toes naturally. The arch level is moderate and offers higher arch support. The Polyurethane material is synthetic, biodegradable and waterproof. Also, the material is resistant to grease, oil, acid, and heat. Polyurethane material can be easily washed with water and a mild type of soap or detergent.
Birkenstock Unisex Professional Boston Super Grip Slip Resistant Work Shoe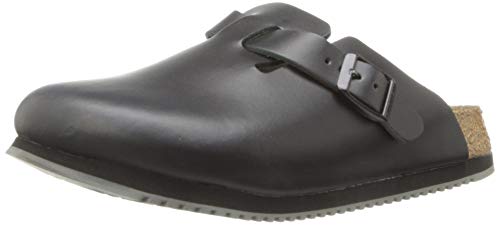 This Birkenstock is a very popular choice in Birkenstock chef clogs. The Boston's exterior leather of the shoes is breathable, waterproof and abrasion proof. The durable material offers superior protection from alkaline, salt, acid, and chemicals. The cell sole of this range provides high flexibility, abrasion-proof, anti-slip and is incredibly lightweight.
The Key Features of the Boston's super grip shoes are the following:
The instep strap is adjustable
Alpro leather upper
High rim
Cork footbed
Arch support
A Deep and comfortable heel cup
Raised up toe bar
Find ultimate comfort as well as superior support in the Alpro G 500 with the closed back style. The adjustable strap allows for a snug fit while the anatomically molded footbed made from cork provides an excellent arch support. The toe bars are slightly raised which promotes a more natural walking motion. The cell-molded soles are flexible and lightweight for a comfortable wear. The outsole is slip resistant to oil and water is tested and certified.
Choose your perfect Birkenstock NonSlip Clogs for Kitchen today and enjoy the support and lightweight designs provided for all day comfort.