Thinking of purchasing shoes for standing all day at your job, but unsure about which ones are worth it? There is a range of options available in the "slip on" category, but only a few that are valuable.  One of the most popular brand among healthcare professionals is Alegria which is famous for making stylish and most comfortable shoes for nurses. This Alegria Debra slip on review will take a glance at what the advantages and disadvantages of these shoes are. There are a host of factors that have to be taken into consideration when purchasing slip on shoes. These factors include comfort, affordability, aesthetic appeal, and overall quality. Let's take a look at whether or not the Alegria Debra slip on shoes get the job done.
The Alegria Debra Review 
1. Alegria Women's Debra Professional Slip Resistant Work Shoe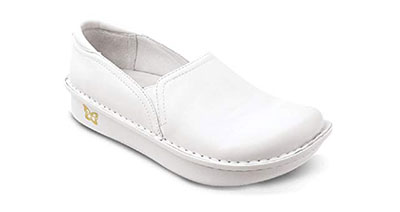 Comfort
In this Alegria Debra slip on review, it is important to begin by taking a look at the comfort of these shoes. Are they easy on the feet and does one feel like they are walking on clouds when putting them on? Most slip on shoes simply do not provide the level of comfort that ones require for those long walks.
This is why these slip on shoes are remarkable. The design is specifically put together to make sure the comfort level is high as one walks in them. How is this done when it come to the Alegria Debra slip on shoes?
The material is where the comfort comes from. These shoes are designed with manmade sole, which makes them soft one the feet and delicately constructed. They come with the following features.
The footbed is cushioned with memory foam. The cork footbed moulds for your feet to provide you comfort for standing all day.
The footbed is removeable if you want to insert orthotics.
The outsole is slip resistant that make them perfect for use in healthcare and food industry.
These shoes are also famous among professionals who have wide feet or have bunions, because they provide wide toe box.
This company has done a wonderful job of adding padding to the inside of the shoes to make sure they fit and feel as great as they look. The comfort level of these shoes is a major plus point when it comes to this review.
Affordability
They are competitive when it come to the pricing and that is perfect for those who want to see something that does not take a chunk out of their budget. They are priced in moderate range and this can vary based from place to place. Essentially, these shoes are great in terms of value because they are providing a wide-range of benefits for the price point.
When comparing them to competitors, these shoes are able to get the job done. They are comfortable and they look great to boot. They are a lovely purchase to consider for those who want to walk in something that is easy.
Aesthetic Appeal
Alegria Debra Slip-On review will now move onto the aesthetic appeal. Do they look great for those who are conscious about how their shoes appear to others? There is no point in putting on shoes that look hideous even if they feel wonderful on the feet.
These shoes look great and that is definitely important to note. The heal is lifted at around 1.5″ and that provides an aesthetic elegance that might not have been there without it.
The shoe is made out of well-constructed leather and the finishing is brilliant. It looks great to the eye and will go with any outfit that one puts on.
The stitching is done to make sure the shoe looks great from all angles. It also helps in making the shoe a bit more "roomy" as suggested by the makers. They wanted to make sure the user is getting maximum value each and every time they put on the shoes.
Disadvantages
There aren't too many disadvantages when it comes to these slip on shoes. They are remarkably well built and look great, but some might complain about the give. What does this mean for the average user?
Essentially, if one has been using these shoes for a long time, they might not start to have the same "give" as they once had. This means, if one is putting a lot of stress on them, they will not ease up on the feet. This is not always a concern, but is a minor disadvantage for those who will use the shoes roughly.
Range
The final benefit is the range of choices one has with these slip on shoes. They are remarkable when it comes to the different colors that are on offer.
2. Alegria Women's Classic Clog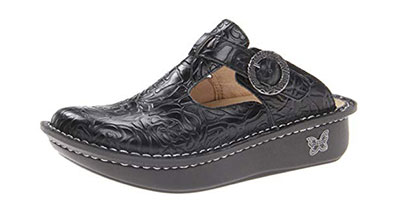 Concluding Thoughts
These slip on shoes are one of the best options on the market and should be considered by those who want comfort, aesthetic appeal, and overall quality for standing all day. Alegria Women's Debra Slip On shoes one of the most comfortable shoes for nurses for standing all day.